Fortnightly Friday Burger and Beer
19/05/2023 @ 6:00 pm

-

11:59 pm

$25.00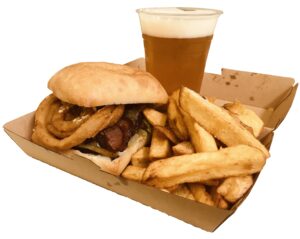 Fortnightly Friday Burger and Beer [BNB] – at The Factory Invercargill – the Factory Invercargill is proud to present our Burger and Beer [BNB] – Fortnightly Fridays at The Factory Invercargill where we will showcase our handmade Craft Beers from our small scale Craft Brewery at 162 Rockdale Road, Invercargill.
All events can be checked at our event calendar.
Purchasing this EVENT TICKET will give you entry to The Factory Burger & Craft Beer Event.
Upon receipt of payment The Factory Invercargill will email you an unique entry ticket serial number – make sure to print, write this down or memorise this (or do all of the above) and bring along on the day – this will be your entry ticket! (we will also keep a name list in case you accidentally forget or misplace the ticket).
The ticket holder will have the option to exchange their entry ticket for one of the below options:
x2 Gourmet Burgers with chips
x1 Gourmet Burger with chips and x1 500ml glass of Craft Beer of their choice as served on the day
x2 500ml glasses of Craft Beer of their choice as served on the day
All beers (apart from the low alcohol beer) are handmade Craft Beers from The Factory. Additional Craft Beer, Gourmet Burgers and bottled Craft Beers (as available) can be purchased on the day. We will also have available a low alcohol option and a limited selection of non-alcoholic beverages.
The event will be open from 6pm until Midnight (doors close at midnight) and will be subject to all legal requirements as well as additional requirements imposed under our special event licence. All patrons must leave the premises by 00:30 hrs.
This event is classed as "Supervised" – any minors (under 18 years old) must be accompanied by their guardian at all times. If you wish to bring along minors (e.g. children) to the event, please contact us directly on CraftBeer@TheFactoryInvercargill.co.nz to arrange a special ticket. Naturally we will not be serving alcohol to minors.
All beverages purchased will be served in 500ml plastic cups and have to be consumed on the premises – Any bottled beer can be purchased during the allocated timeframe (6pm-10pm) but has to be taken off site (e.g. home) for consumption.
The team at The Factory hope to see you there!